The Apollo Pro is the most prestigious combination pool in the Colossus range and is unique as the worlds only swim spa in the graceful style of a 30ft yacht.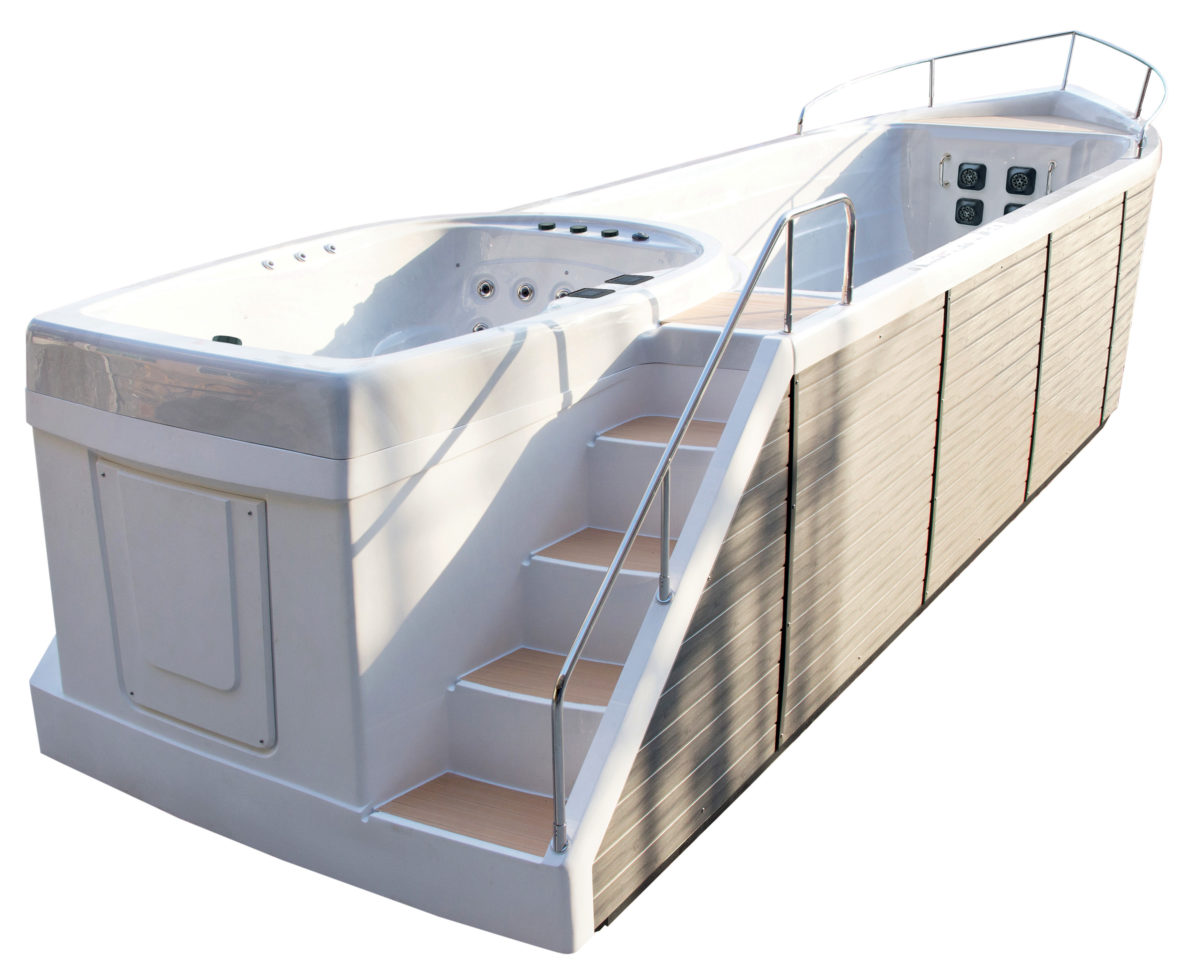 Product Details
The Apollo is designed to allow the hot tub and pool to be set at different tempatures. For swimming you need cooler water to avoid over heating during exercise. Located at the stern of the Apollo the Hot tub can be run at a much higher temperature to aid circulation and sooth tight, tired muscles.
The pool end features Riptide's powerful four turbo jet system with a 10 speed varrible speed drive. Adjust the water speed to match different
swim styles and swimmer abilities.
For total relaxation, the Apollo's fully featured hot tub has an array of adjustable hydro-massage jets across two seats and
two full length loungers.
Elegant shipstyle steps lead you up into the large, wide exercise pool for competitive swimming and family fun.
Technical Specifications
| | |
| --- | --- |
| Capacity | 2 seats, 2 loungers |
| Dimensions | 9m × 2.25m × 2.02m |
| Water Capacity | 12,000 Litres |
| Power Supply | 21 amp spa end, 45 amp pool end |
| Shell | Aristech shell in Silver White Marble |
| Cabinet | Maintenance free UV resistant synthetic wood in Coffee or Coastal Grey |
| Weight Dry | 2070kg |
| Control System | Fully integrated Gecko programmable control system for circulation & filtration |
| Control Panel | Gecko illuminated IN.K 300 spa side control head, Bar top air control |
| Heater | 2 x 3kw heater |
| Insulation | Platinum insulation includes foam shell and cabinet with sealed air gap |
| Jets | 4 Turbo counter current jets with a 10 speed variable speed drive, producing up to 2,200 gallons output per minute 52 Diamond hydrotherapy jets with stainless steel escutcheons |
| Lighting | Underwater LED lighting, multi point perimeter & bar top LED lighting system |
| Pump | 2 x variable speed 3.5hp jet pumps, 4 x 3hp one speed jet pumps |
| Circulation Pump | 2 x dedicated 1hp circulation pumps |
| Filtration | 4 x 35 sq ft filtration, top loading cartridge |
| Ozone System | 2x Corona discharge ozone system with inline mixer |
| Optional Extras | Cover lifter, in.Stream bluetooth transducer music system, in.Touch remote communication system, colour matched steps |
| Warranty | 8 Year Limited Warranty |
Optional Extras
Cover lifter
In.Stream bluetooth transducer music system
In.Touch remote communication system
Colour matched steps
Warranty
8 year limited Warranty
Downloads
View the Poseidon Swim Spa in action…