Aqua Life 6.0 DUO Elite Premium

The ultimate swim and spa package, with the Aqua Life 6.0 Duo Elite Premium enjoy the best of both worlds in one of the finest combination pools available today. Two volumes of water ensure that the separate spa end can be adjusted to hot and the swim end kept at a lower temperature for swimming against the powerful counter current jets.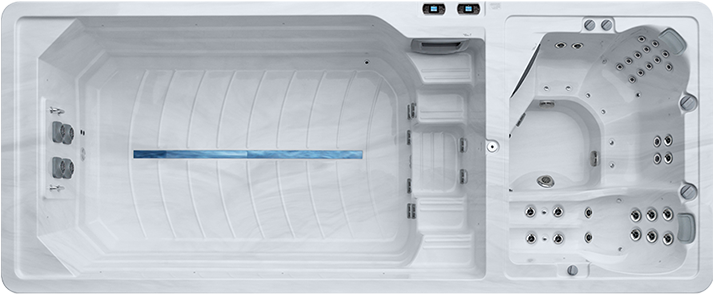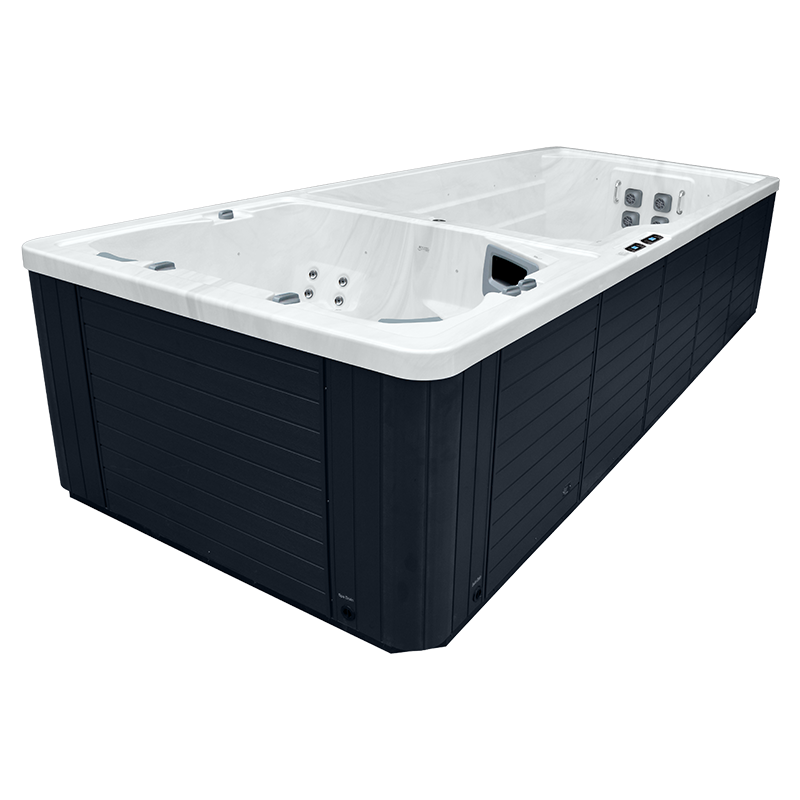 Product Details
Get total control over the power and speed of the counter current. Featuring a variable speed drive, the 10 speed control allows the swimmer to select their favoured water speed; slow for a leisurely dip, fast for a full on sprint.For relaxation, the separate spa features a full length lounger plus three seats, all with an array of powerful hydrotherapy jets. For exercise, the pool end features powerful counter current jets for the ultimate swimming experience. The pool end has steps for easy access doubling as cool down seats.
Watch the Poseidon Pro Video
Technical Specifications
Capacity
3 seats and 1 louger

Dimensions

5500mm x 2350mm x 1290mm
Water Capacity
6750 litres
Power Supply
Spa end: 20 amp, 230V – 50 Hz / 14 amp, 380V – 50 Hz, TÜV certified
Pool end: 41 amp, 230V – 50 Hz / 20 amp, 380V – 50 Hz, TÜV certified

Shell

Aristech shell in Sterling Silver, Ocean Wave or Pearl Shadow

Cover options

Fully insulated, heavy-duty humpback or roll up thermal cover in Grey or Coffee

Cabinet

Maintenance free UV resistant synthetic wood in Dark Grey or Mocha
Weight Dry

1253kg

Control System

Gecko IN.YE5 control system, IN.K806 bar top control

Heater

2 x 3kw heater

Jets

4 Turbo counter current jets with a 10 speed variable speed drive, producing up to 2,860 gallons output per minute, 35 high power hydrotherapy jets with stainless steel escutcheons

Lighting

Underwater LED lighting, multi point perimeter and bar top LED lighting system

Pump

Spa end: 2 x 2hp one speed pumps
Pool end: 10 speed variable speed drive: 2 x 3.5hp variable speed pumps, 2 x 3hp one speed pumps

Circulation Pump

Dedicated 2 x 0.35HP circulation pump

Filtration

Easy to clean in-spa filtration system, 2 x dual high-efficient Blue Filter System

Ozone System

High efficient mixed ozone sanitisation

Optional Extras

Colour matched steps, in.Stream bluetooth transducer music system, in.Touch remote communication system
Certificate of Approval

CE, SAA
View the Poseidon Pro Swim Spa in action…