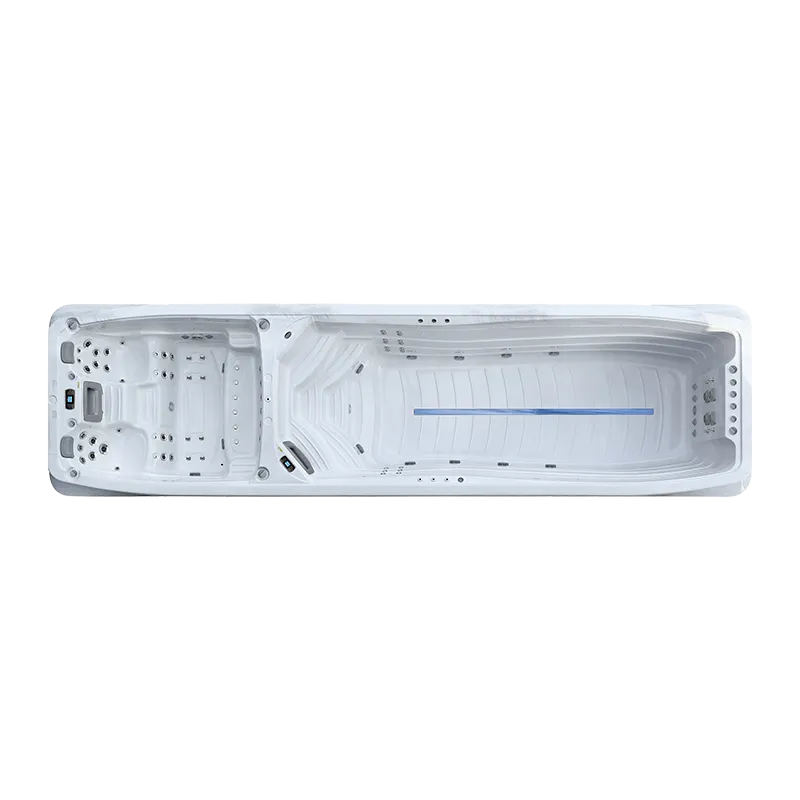 Athena 8.0 DUO Elite Premium
Athena 8.0 DUO Elite Premium Product Details
For swimming in the pool end, adjust the water temperature so as not to overheat during exercise. On the other side of the thermal wall the fully featured hot tub can be run at much higher temperature to enable your body to relax, benefiting your circulation and tired muscles.
The pool end is fitted with an ultra powerful 4 turbo jet system with a varrible speed drive. Adjust the water speed to match different swim styles and swimmer abilities.
The hot tub end of the Athena 8.0 DUO Elite Premium features 46 adjustable hydromassage jets and 10 air massage jets across three seats and two full length loungers.
Image may show optional extras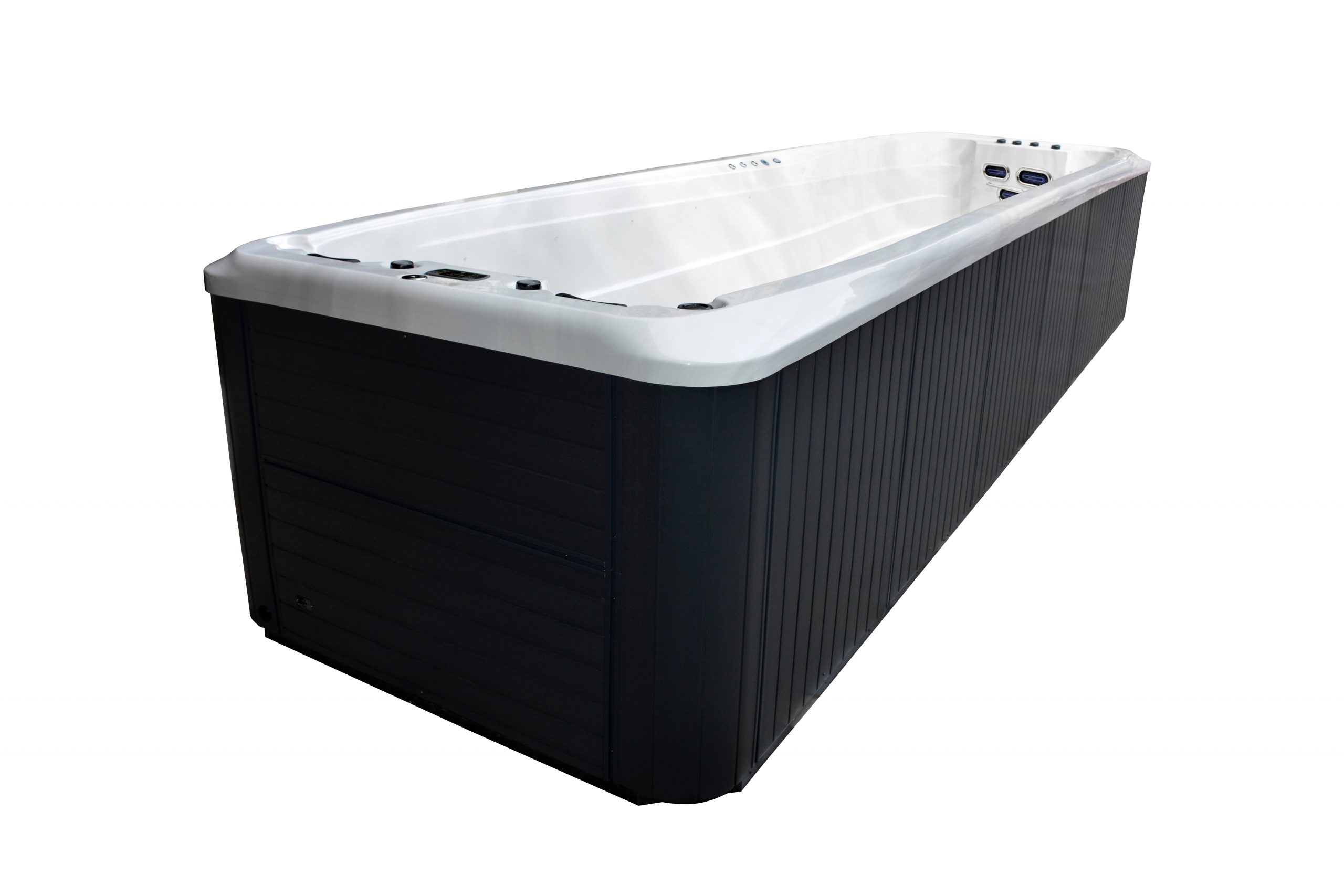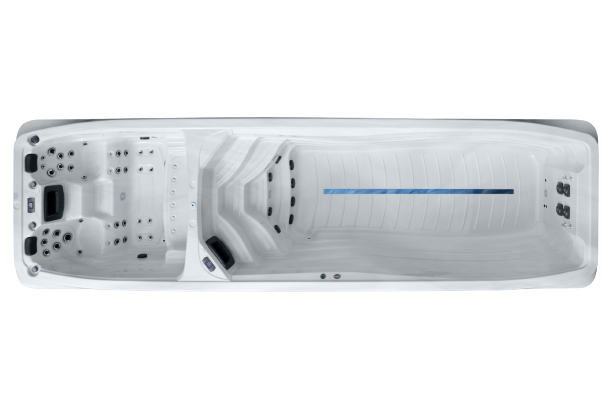 A BETTER MASSAGE EVERY TIME
Each stainless steel hydrotherapy jet is positioned perfectly to loosen the tightest knots in your neck and shoulders, lower back, legs and feet. Tough PVC and stainless steel structure can offer a smoother, more enjoyable massage · Every seat offers a different massage experience. · Jets targeted to specific muscle groups for maximum benefit.
Overall Thermal Lock Insulation Power Saving System
More heat can be locked without frequent heating. With a combination of lockable thermo cover with high density insulating foam, "No Gap" cabinet, thick foam, insulated cladding plus high-performance insulation material, well-sealed floor. Riptide spas insulation system ensures minimal heat loss.
ENHANCE EASY WATER CARE SYSTEM
Safe and clear water is essential to your soaking or swimming experience.Enhance easy water care system make safety and water cleaning easy and low cost. It includes high efficiency filter cartridge,high-efficient mixed ozone sterilisation, high flow and quiet circulation pump,helping to Kill Germs and break down body oils for reduced chemical usage and crystal clear water
SMART POWER SAVER CONTROLLER
Gecko controllers use state of the art technology to manage power use and reduce overall running costs. With its bright, full colour display and the high resolution of its screen, in.k806 main keypad provides an intuitive user experience and brings the spa user interface to a new level. Loaded with a large amount of memory and a powerful on-board processor, in.k806 offers a complete control on all spa functions and connected value-added accessories.
Patented turbo Swim Jets
Correct jet positioning and resistance is crucial.fter years of development and testing, our turbo swim jets have a smooth continuous flow, with the resistance required to provide an unparalleled swimming experience.
Adaptive Flow Control Inverter Swim System
Inverter swim system offering 10 speed variants for differing swimming styles and abilities. Providing a powerful and fully adjustable yet no-turbulence swim current that will challenge even the strongest swimmer, great for exercise and fun for the whole family
Athena 8.0 Duo Elite Luxury

Athena 8.0 Duo Elite Premium

CONTROL SYSTEM(SWIMA ZONE)

Gecko IN.YE5+IN.K806+IN.K120

Gecko IN.YE5+IN.K806+IN.K120

2 x 3.5(Inverter) hp + 2 x 3hp

High-efficient mixed ozone sterilisation

High-efficient mixed ozone sterilisation

Dual High-efficient blue filter

Dual High-efficient blue filter

Overall thermal lock insulation system

Overall thermal lock insulation system

WIFI/BLUETOOTH STEREO/FULL INSULATION/*HEAT PUMP

Product specifications are subject to change without notice to improve reliability,function,design or otherwise.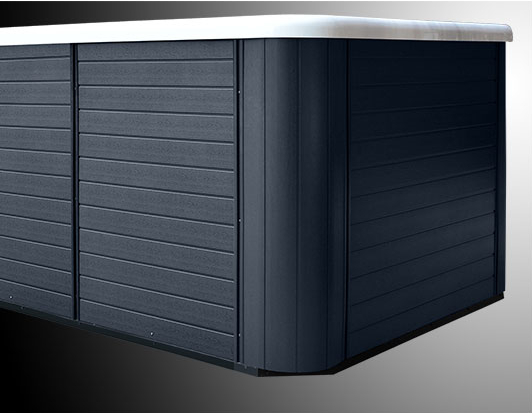 The weatherproof and maintenance free UV resistant exterior wood-effect cabinet with stainless steel fittings is colour matched to the heavy-duty vinyl thermal cover.
THE THICKEST SHELL ON THE MARKET
8-10mm thick fibreglass shell with American  acrylic surface .
Multi layers laminated construction for strength and rigidity 
Oven cured for maximum strength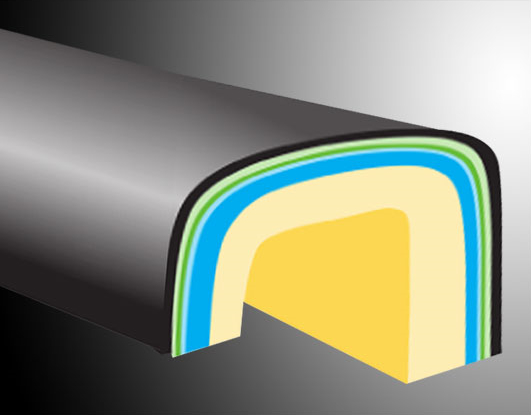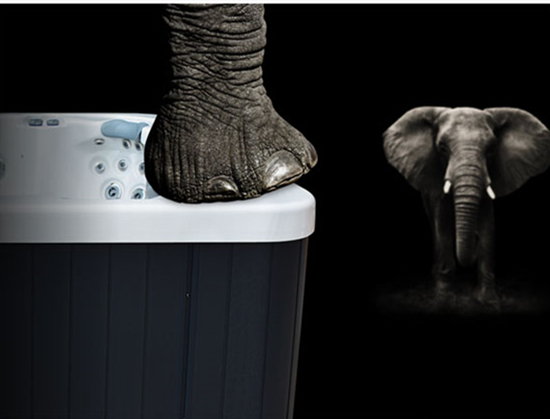 SUPER TOUGH CONSTRUCTION THROUGHOUT
Super strong triple reinforced frame is screwed to the top edge & footwell 
The frame also supports every seat 
Built tough – swim spa are up to 50% heavier than other brands
Solid wrap-around abs base on the bottom of your swim spa adds massive strength to the swim spa overall  
Keeps pests and weather from damaging the frame and equipment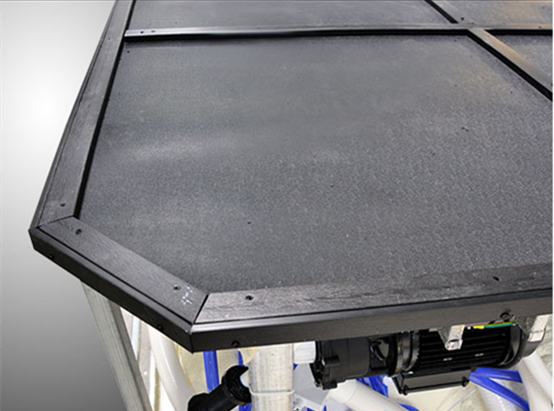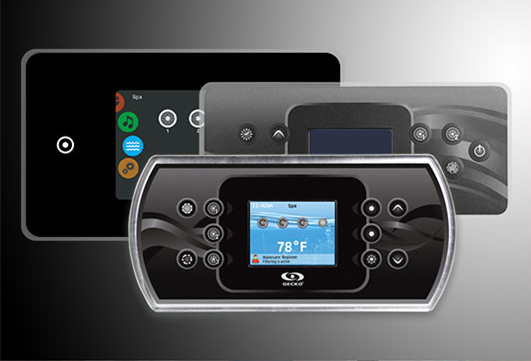 INTELLIGENT AUTOMATIC DESIGN
Our "set and forget" multi function control system automatically makes sure your spas water is always clean and ready to use.
Made to Suit Every Body.
Choose between bench seating, contoured seating, neck therapy seating and recliner lounges in various depths to suit your mood and body size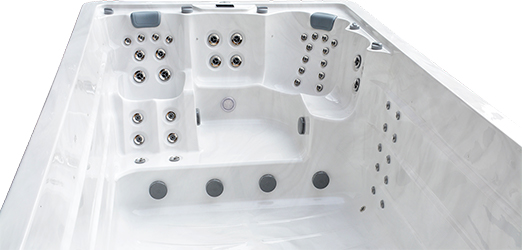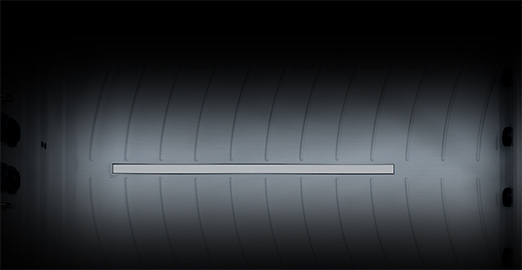 The contrasting swim line provides a point of reference which helps to maintain a central position in the broad swim stream.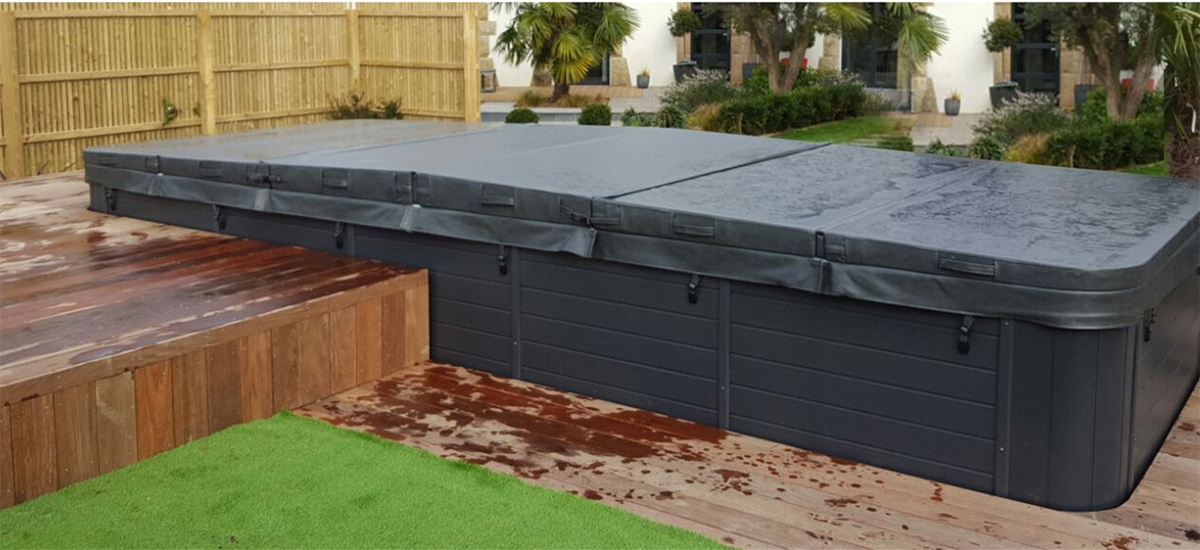 Perfect heat insulation & Energy saving
Manufactured with the highest quality commercial grade materials, providing a strong, durable, lockable safety cover.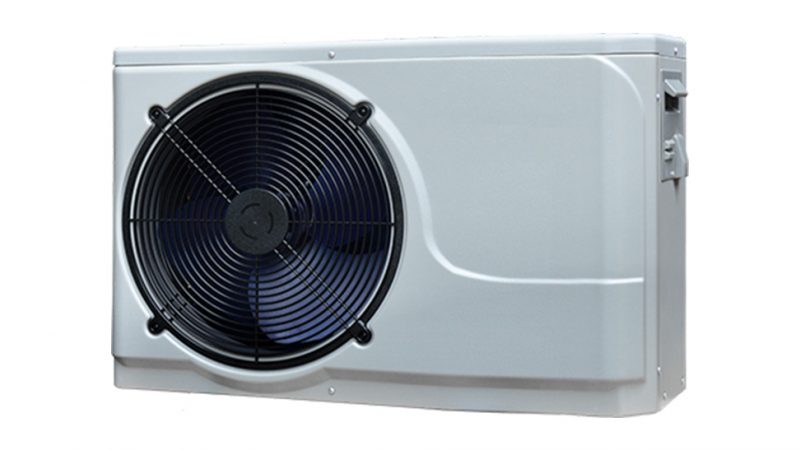 Ready to connect to your pool, this energy efficient alternative can save you up to 75% on heating costs.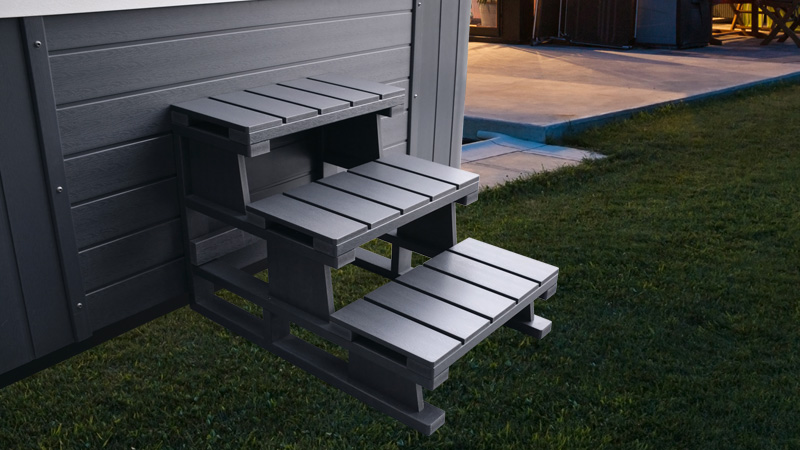 Give your Pool better access with a durable step.Colour matchable 3 tier steps.Designed to be easy to assemble.Lightweight and super-sturdy.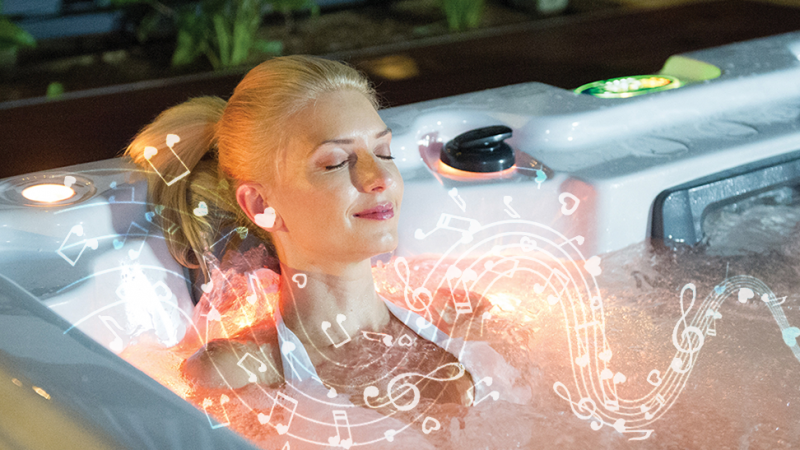 Delivering clean, crisp sound expected by music lovers, in.stream features a Class D amplifier technology to enhance your outdoor audio experience.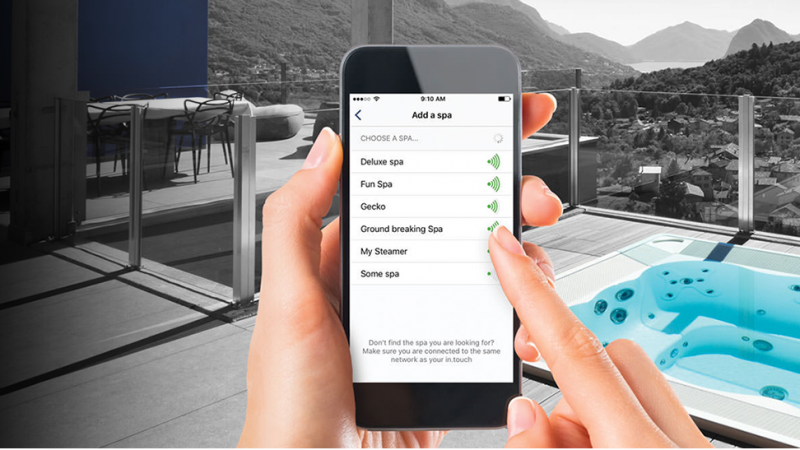 Unlock remote access with android, iphone, ipod or ipad via wi-fi for full spa control from anywhere.